A cache of 100 old photographic portraits pertaining to the Macfarlane families of Perth, Dundee and surrounds in Scotland, was discovered recently at an auction by James Burton of Aberdare, Wales. James is keen to return the photographs to descendants if any can be located.
James said, "10% are cabinet cards, 80% are carte de visite, with photographers studio names on the reverse dating from 1870 – 1900." An example appears below: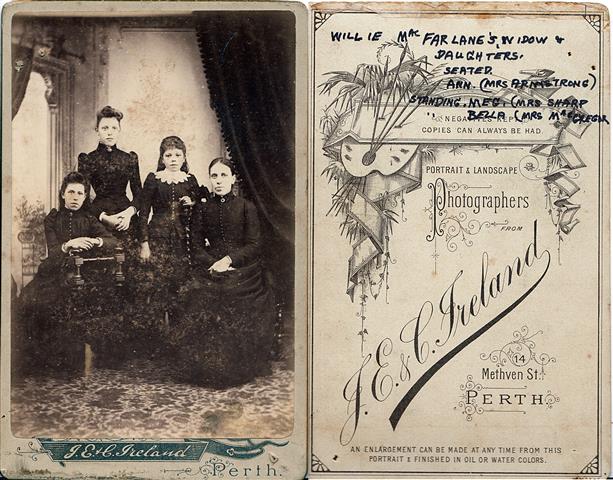 Willie Macfarlane's Widow and Daughters, Perth, Scotland c. 1880
The main family originated in Rattray, Perth, Scotland.
William and Catherine (nee Gellatty) Macfarlane.
William was a cartwright who accidentally shot himself and died of his injuries in 1880 near Blairgowrie.
Sons:
James Macfarlane
Thomas Macfarlane

Daughters:
Ann Macfarlane (m. James Armstrong, India)
Meg/Maggie Macfarlane (m. Sharp)
Bella Macfarlane (m. James Scott)

If you believe you may have a connection with this family and would like further information, please email:  secretary@clanmacfarlane.org.au